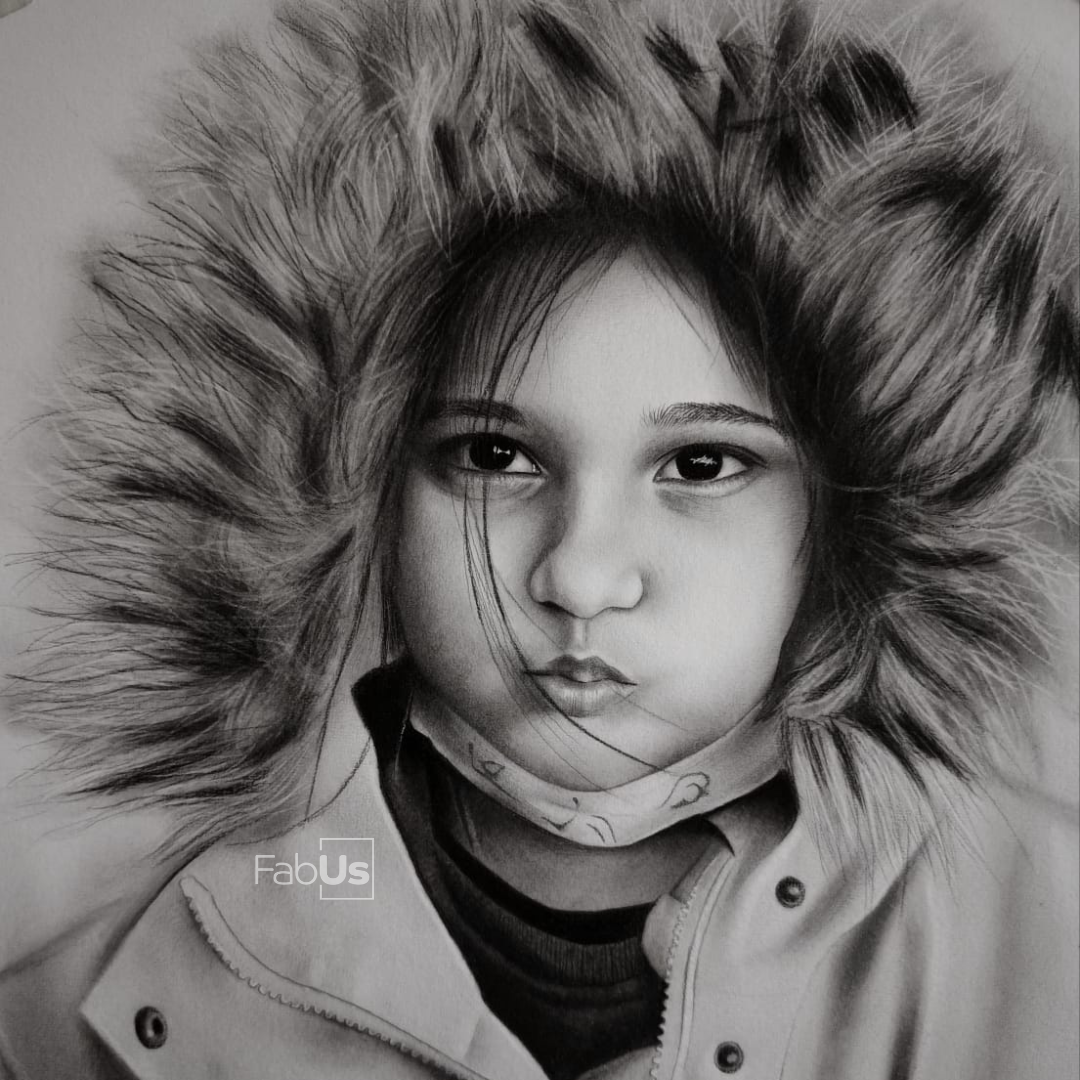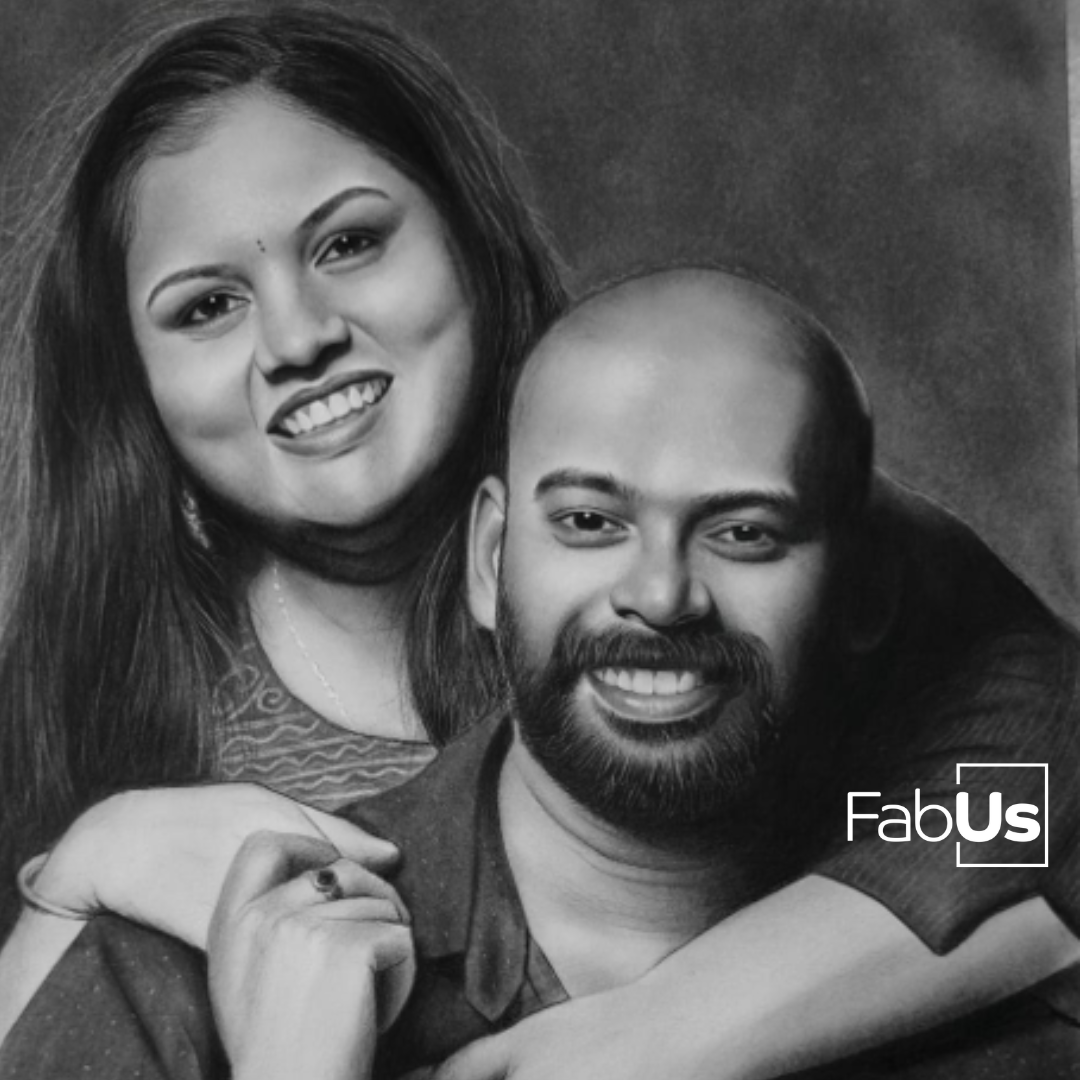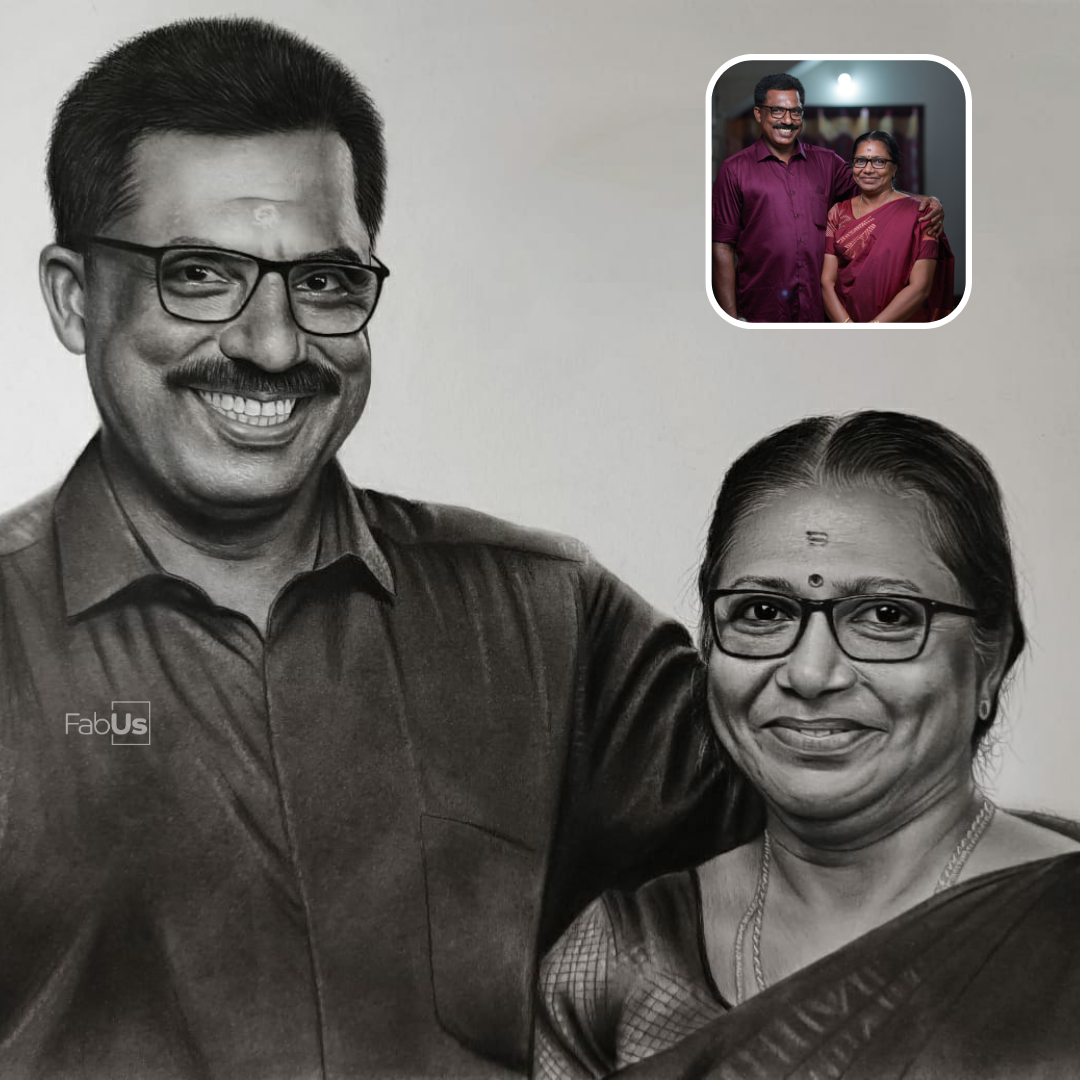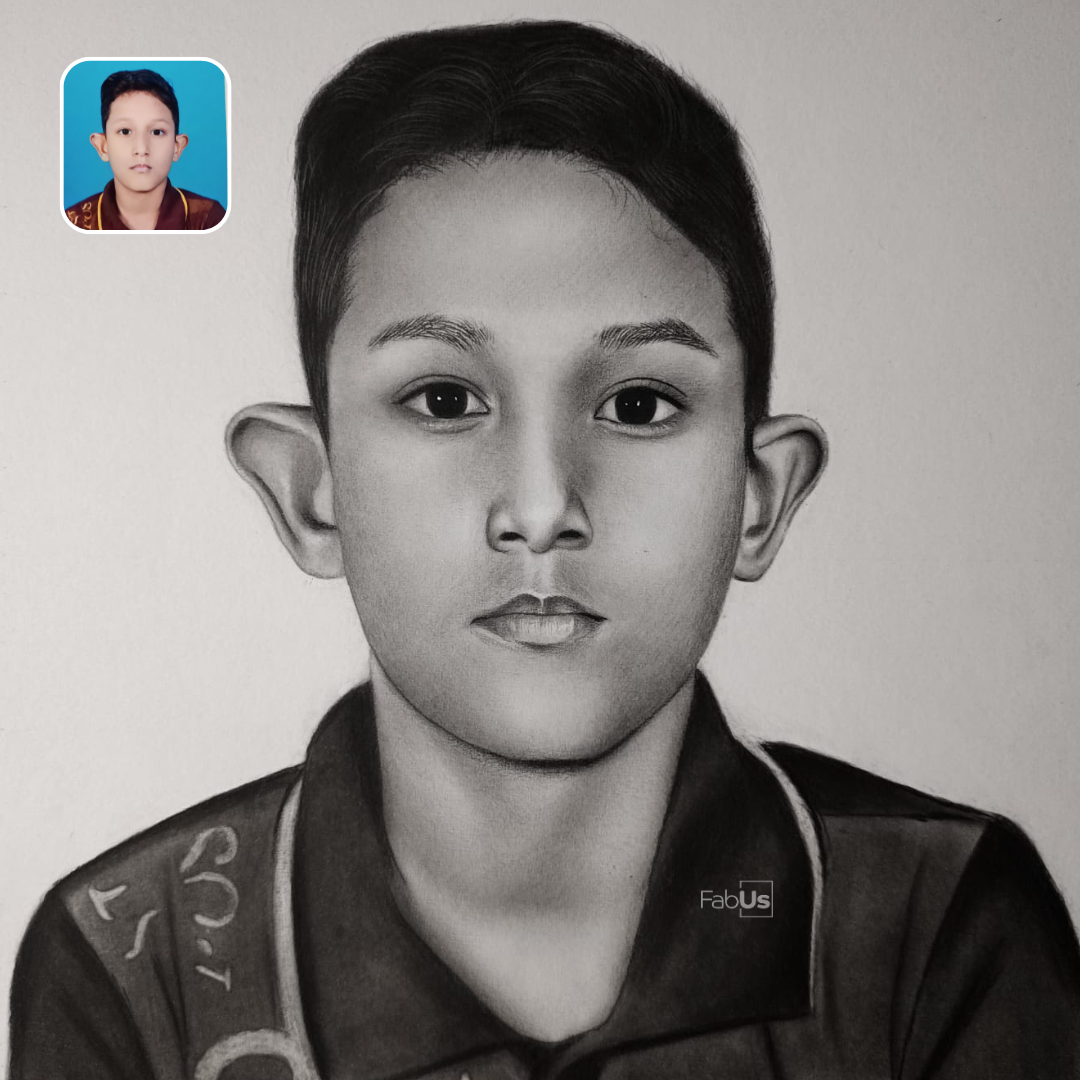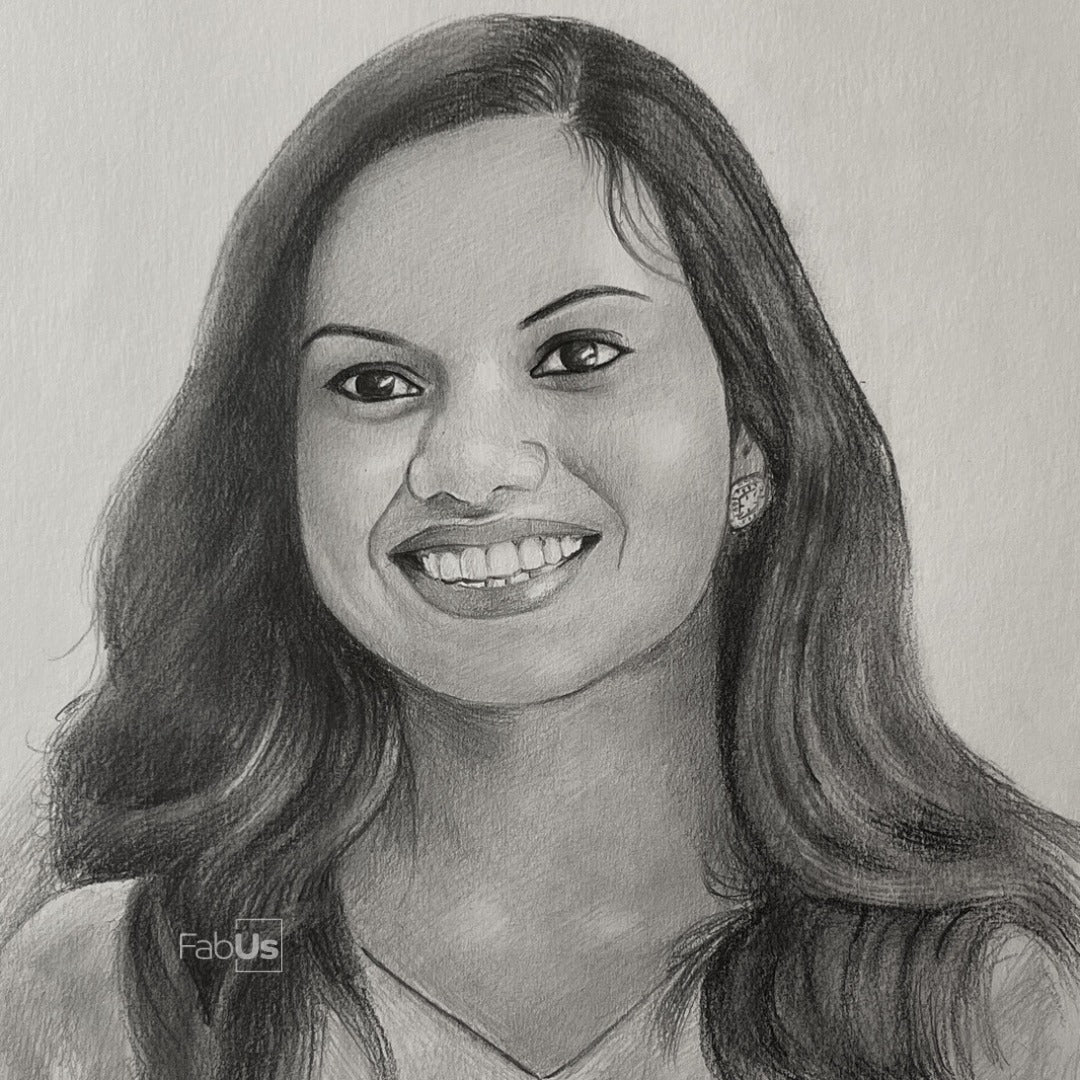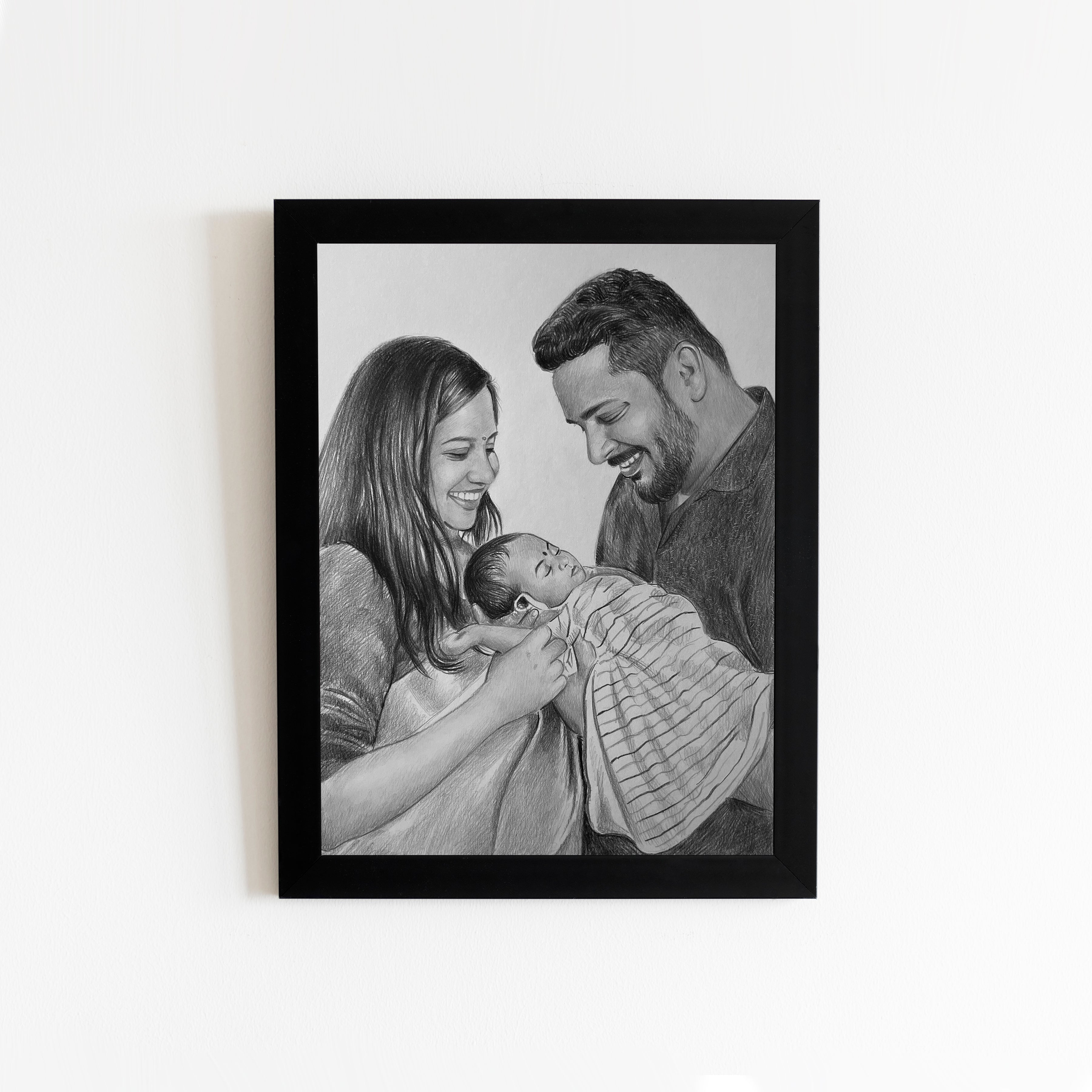 Number Of Character/Faces:

i
Number Of Character/Faces
Product Delivered in 7-14 Days
100% Handmade
On-Time Delivery
Expert Handpicked Artist
Moneyback Guarantee
Hyper-realistic
Our portraits are so astonishingly realistic that people often find it hard to believe they are hand-drawn.

Ivory/Brustro Paper Sheets
The use of acid-free ivory/Brustro sheet paper ensures long-lasting color vibrancy, preventing any fading over time in our pencil portraits.

Decay-resistant Frames
The portraits is framed using synthetic fiber frames, which offer protection against decay and ensure long-lasting durability.

Reliable Protection
The portrait is matte laminated for protection against moisture, dust, and dirt.

Easy Installations
Our portraits are designed with a convenient hook and stand, allowing for tabletop display as well as easy hanging on the wall.

Sturdy Back-board
top-grade 8mm thick MDF boards for framing, providing excellent resistance against breakage and bending.


Capture the magical process of your artwork being created with a captivating time-lapse video. Watch as the artist carefully brings your masterpiece to life, capturing each stroke and intricate detail. Share the video on social media and impress your friends with the mesmerizing journey behind the artwork. Experience the delight of showcasing the transformation from a blank canvas to a breathtaking masterpiece through our time-lapse video feature.

Complimentary gift wrap

Foam Corners for Safety

Free Shipping Pan India

International delivery
Our Promises
Experience the extraordinary with our features designed to surpass your expectations.

Strong & durable Frames

Easy Replacement

1 Year No-color fade warranty

Prompt customer service
Why Trust Us
Your satisfaction is our utmost priority. Our extensive experience and the overwhelming support of our delighted customers solidify our commitment to delivering nothing but the best for you.

12,000+ Happy customers

1000+ Reviews on Google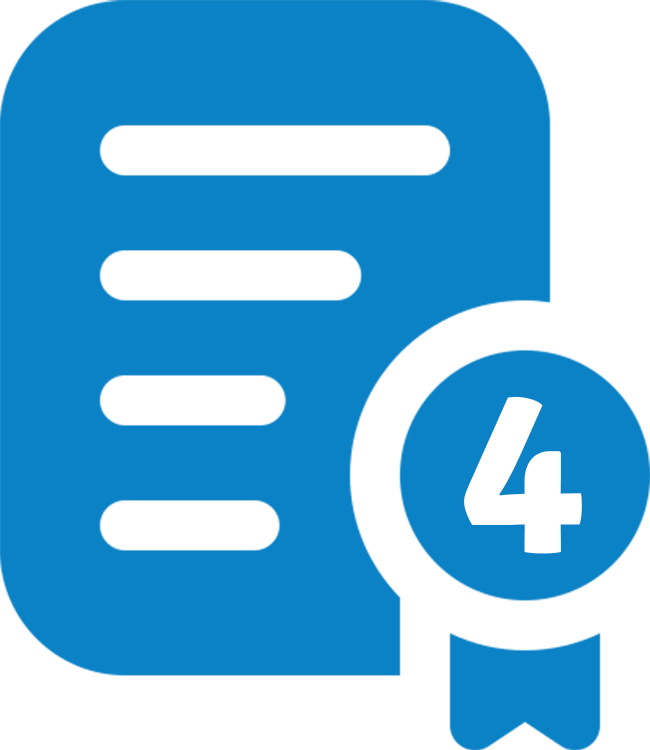 4+ Years of Experience

Razorpay Trusted Business
Excellent
Very nice work thankyou fabus
Premium potrait sketch for my parents Anniversary.
My experience with Fabus frames was excellent.Right from placing the order till I received the gift the team was very friendly and assisting.
I wanted to gift my parents something unique valuable and memorable for their anniversary.Thats when I came across Fabusframes .Just a week before their anniversary I uploaded the picture and placed the order for premium potrait sketch.After confirmation,within 2 days the sketch was ready .
It was outstanding!!!! ✨It was a exact replica of the picture I had given ❤️
Really I must say they have a wonderful handpicked team of artists .
On my request,the team sent me the sketch before the scheduled day .
When I gifted it to my parents they just loved it ❤️ Potrait sketches and photoframe is something that one can cherish throughout life .
Thanks to Fabusframes for making my parents anniversary special and memorable.
As promised they ensure quality and excellent customer support In total it was a wonderful experience.❤️❤️
Thank you Fabusframes!!!!!
Fabulous 👌 👏
The premium portrait was fabulous and every one in my family loved it..especially my wife, where it was the surprise gift.
What is the specialty of premium pencil portrait over normal pencil portrait?
Premium pencil portraits are hyper-realistic, where the finest details are masterfully executed, resulting in an incredibly lifelike representation of their subject. In a normal pencil portrait, minimal detailing is done
What different framing options do you have?
1. Frame Only: In this option, you'll get a portrait with a frame delivered to your address. However, you won't get the time-lapse video
2. Frame and Time-Lapse Video: You'll get a framed portrait and a time-lapse video of 30 to 50 seconds. A popular pick among customers.
3. Rolled Paper: Your painting will be rolled into a tube and delivered to you. This option is recommended if you want to get it framed at your convenience.
4. Rolled Paper + Video: Same as the Rolled Paper option with a time-lapse video.
Is it possible to add people from two or more different photos?
Yes, it's possible. In this case, we will send you a preview before the drawing for your approval.
Can I include the quotes on the portrait?
It's possible, You can mention the quotes in the "Add Order Note" section during the checkout. But we recommend you keep the portrait as it is, without any quotes.
Happy customers
We deeply appreciate the opportunity to bring joy to people's lives through our artworks. It is this profound sense of gratitude that fuels our relentless drive for continuous improvement and innovation.